FIVE IMPORTANT RULES FOR HOME HEALTH CARE PROVIDERS.
admin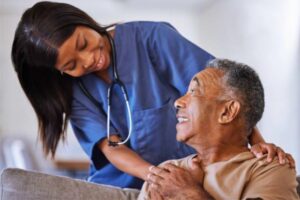 Occasionally, a permanent disability, chronic disease, or an unexpected accident or illness may completely change the course of a person's life. This change will cause the person to require constant nursing care, monitoring or other support services from a home health care provider.
As a home health care professional, you may have the responsibility and the privilege of coming into a person's private home to provide such home health care and support services. This will mean you will be coming into the person's life during a very trying and difficult time.
To affect the lives of their clients positively, the home health professionals must abide by a certain code of honor. These important and unbreakable rules must be adhered to, when caring for someone in their home.
1. Be Humble
Whether you have been working in home healthcare for ages, or you are new to the field, home health care puts you on the client's territory. You are in their home to provide care, but also to learn about them, and their family dynamic; and every experience is new and different.
It is important to stay humble. Working with humility gives you the ability to take all the lessons you learned, and apply to them all the patients you care for on a daily basis, with love and compassion.
2. Be A Team Player
The saying goes, "no man is an island," and this saying could not be more appropriate for the home health care field! No successful healthcare professional works alone and this is true for the home health care professional as well. This is a field of collaboration, cooperation, and amity.
You, your team of colleagues, and their family of caregivers must work together to promote health and healing for your client. Knowing that a whole group of loved ones and professionals are behind them during this difficult time in their lives, will give them a true sense of security.
3. Be Compassionate
One of the most important things about being a healthcare professional, no matter your field or specialty, is your bedside manner, even when you are not at bedside. Showing your clients how dedicated you are to caring for them encourages emotional, as well as, physical healing.
If you view the client you are caring for as nothing more than a patient who needs treatment, you are doing your client and their family a disservice. You cannot build trust without first forming bonds with those you care for.
4. Always Be Punctual
This may be one of the most important rules to follow. Do not take lightly the responsibility you have as a home health care professional to be on time. Caregiving is demanding work for a family. Your reliable presence keeps them balanced in their lives.
Your clients and their family members need to know they can count on you. There is peace of mind that comes from being able to depend and rely unmistakably on the professional who cares for them or their loved one. Being always on time is one way to communicate your reliability.
5. Be Trustworthy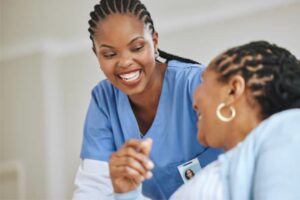 Given the highly personal nature of home health care, caregiving can be deeply uncomfortably if trust is not present. It is important to instill in your client that you have their best interest at heart, that you will work with discretion and respect their privacy.
Part of keeping clients happy and healthy at home is ensuring their privacy is your priority. Breaking this trust can damage not only your own reputation as a professional but also the reputation of the agency you represent.
Therefore, whether you are providing skilled medical care or personal care assistance, it is important to establish yourself as a trustworthy professional, someone they can count on through, what is most certainly, one of the most challenging times in their life.
To abide by these rules is to provide the utmost compassionate, reliable, and excellent care for those in need. A true home health care professional embraces their role in a person's life, loves their clients, and will surely be loved in return.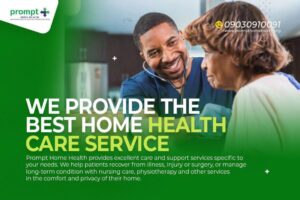 When you need top-notch services from professional and compassionate caregivers to take care of your loved one at home, call PROMPT HOME HEALTH; 09030910091
To learn more, please click on www.prompthomehealth.org