The Importance of Professional Caregiving: Providing Quality Care for Your Loved Ones
admin
As people age, their physical and mental capabilities begin to decline. This can be a challenging time for both the individuals and their families. Family members may find it difficult to provide the necessary care and attention that their loved ones require. Professional caregiving can help alleviate the burden and ensure that your loved ones receive the quality care they need.
There are several reasons why professional caregiving is essential. First, trained caregivers have the knowledge and skills to provide specialized care for individuals with different health conditions. For example, individuals with dementia may require more specialized care than those with physical disabilities. Professional caregivers are trained to meet these specific needs and can provide better care than untrained family members.
Secondly, caregiving can be a challenging and time-consuming job. Many family members may find it difficult to balance their work-life, family obligations and caregiving responsibilities. This can result in caregivers neglecting their own self-care, which can cause them burnout and stress. This is where a professional caregiver comes in handy, by taking the stress and burden of caregiving off the shoulders of family members.
Professional caregivers are also trained to provide emotional and psychological support to their clients. Aging and illness can be mentally and emotionally challenging, resulting in feelings of depression and anxiety. Professional caregivers are trained to recognize these symptoms and provide the necessary support and assistance to ease their clients' mental and emotional distress.
Moreover, professional caregiving can help seniors maintain their independence and dignity. Aging can cause a decline in physical and mental abilities, making it difficult for seniors to perform daily tasks. Professional caregivers can help seniors retain their independence by providing assistance with daily activities such as grooming, feeding, and dressing. This ensures that seniors maintain their dignity, even as they age.
Professional caregivers are also trained to provide a safe living environment for their clients. They are knowledgeable about safety precautions and can provide effective interventions and solutions to prevent accidents and falls. This helps to prevent injuries, such as fractures and head injuries, which can be life-threatening in seniors.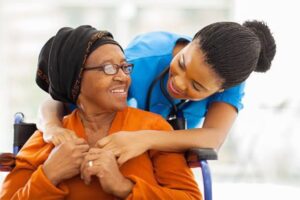 In conclusion, professional caregiving is a vital service that ensures that aging individuals receive quality care and support. It provides specialized care, emotional and psychological support, a safe living environment, and maintains the clients' independence and dignity. So, if you have an aging loved one and are struggling to provide the care they need, consider seeking professional caregiving services. It's a decision that can help enhance their quality of life.
Take care of your elderly parents at home with Prompt Home Health.
Prompt Home Health Prompt Home Health (RC: 928877) is a trusted leader in providing clinical care, therapy and supportive services to adults and children in the comfort of their homes. Since 2009, we have been partnering with hospitals and healthcare practitioners to give Nigerians greater access to quality healthcare services delivered at home.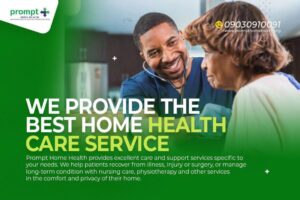 All of our caregivers are licensed, certified and extensively screened, so you will have peace of mind knowing that your loved ones are safe and in good hands.
Our Services include:
1. Doctors House Call,
2. Home Based Nursing Care,
3. Supportive and Elderly Care,
4. Physiotherapy and Rehabilitation,
5. Consultancy and Caregiver Training,
6. Ambulance Services and more.
To get started, please call: 09030910091, 08035047650, 07040009011